News
Simon Pirie celebrates 25 years of contemporary design
Simon Pirie first set up on his own designing and making bespoke hand-made furniture as a sole-trader in a small, shared workshop in Slepe, near Poole in 1998 and officially launched at the House & Garden Fair later that year.  A passion for using native timbers and a deeper understanding of forestry became instilled whilst he was training at John Makepeace's remarkable Hooke Park College in Dorset and has remained a core principle from the very outset of the business, when Simon's work was mostly one-off free-standing furniture commissions for domestic clients. 
Joined by a newly trained John Beaves in 2001, the business evolved over the first decade to include projects for universities, churches and public art.  Simon designed his first kitchen in 2003 (having been persuaded by some very insistent clients!) and the success of this project gave him the confidence to do more and bigger projects. These needed more build space and better workshop facilities, so in 2007 the company moved to its current Courtyard Workshop near Bere Regis and became Simon Thomas Pirie Ltd., with John Beavis and Simon's wife, Bridget, joining him as directors. Larger workshops meant they could employ another young maker, Mike who is still with them today.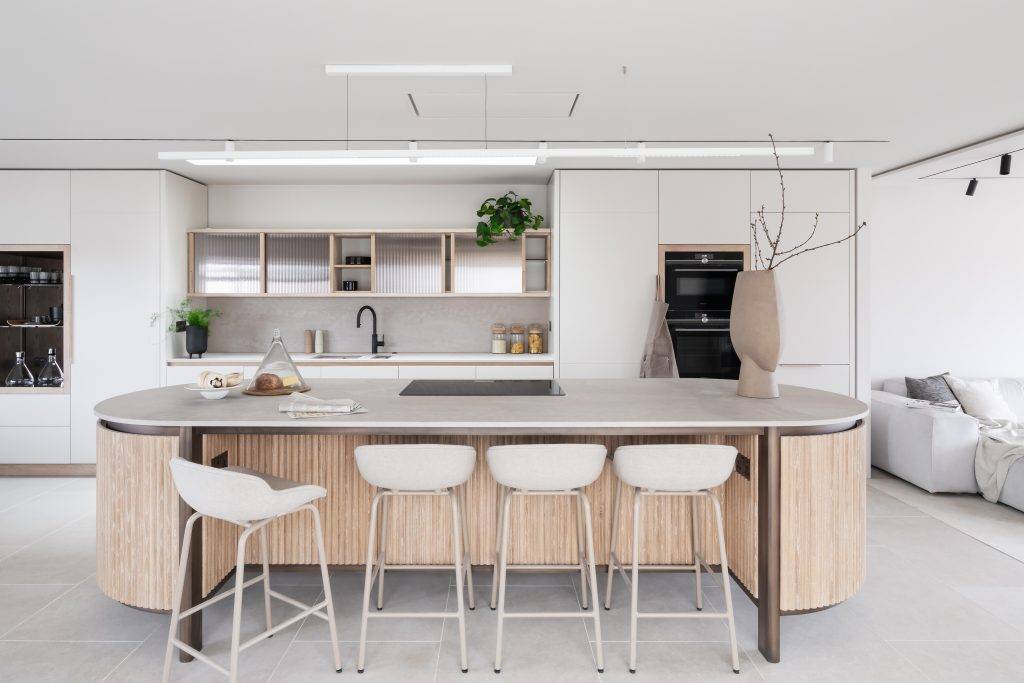 More talented makers have joined over the intervening years, but they are delighted that Mike and their first apprentice, Tom, who joined them in 2015, remain the backbone of their workforce. Tom has come full circle and is now in charge of training the latest trainee Ben, who has just enrolled on the Ryecotewood apprenticeship programme.
The Courtyard Workshop provides enough space for Simon and the team to build out their own kitchen designs and whole interior schemes and has allowed them to broaden their capacity.  Bespoke furniture remains at the heart and soul of their vision, but it's rare that there isn't a kitchen or large interior project at some stage of development. As well as working for their own private clients, STP now designs and makes for numerous architectural, interior design and developer practices. The breadth of their work is showcased in their blog and Simon has been posting some of his favourite projects of the last 25 years on the company Facebook page and other social media. 
Simon's work continues to carry his own distinctive design identity and he has won numerous design awards, including two Design Guild Marks, a Wood Award and a Designerati 'D' Award for 'Kitchen of the Year' for their 'Bliss' kitchen in 2018. Now in their silver jubilee year, the company's Bristol & West Penthouse project has just been shortlisted for another Designerati 'D' Award for 'Kitchen of the Year'.
With an order book stretching well into 2024, STP are looking to expand again to cope with the increasing size and scope of the projects they are asked to undertake.  The aim is to bring more of their processes 'in house', whilst by choice retaining the ethos of a small design-led business.
Simon joined the Furniture Makers as a Freeman in 2013 and has been an active member of the SW Region Committee since its foundation in 2017.