The historic
Frederick Parker collection
The Frederick Parker chair collection and archive
The Frederick Parker Chair Collection is an outstanding resource for studying British furniture making and design from the 17th century to the present day.
It comprises a fascinating collection of 200 chairs showing a wide variety of materials, forms, decoration and design. It illustrates how furniture has evolved over time, with changing ideas about comfort, style and design and the introduction of new materials and technologies. The chair collection offers design students a wonderful resource for sparking ideas and inspiring new forms of seating furniture.
The Frederick Parker and Parker Knoll Archive is a wonderful record of 150 years of furniture making, including design, manufacture and retailing.
Established by Frederick Parker in 1869, the company changed its name to Parker Knoll in the 1930s and became famous for its quality upholstery and tension springing system. Today Parker Knoll continues to manufacture upholstered sofas and chairs and is one of Britain's best known furniture brands. The archive includes details of almost every model made by the company from the 1870s to 2003, with hundreds of design drawings, photographs and related advertising and publicity material.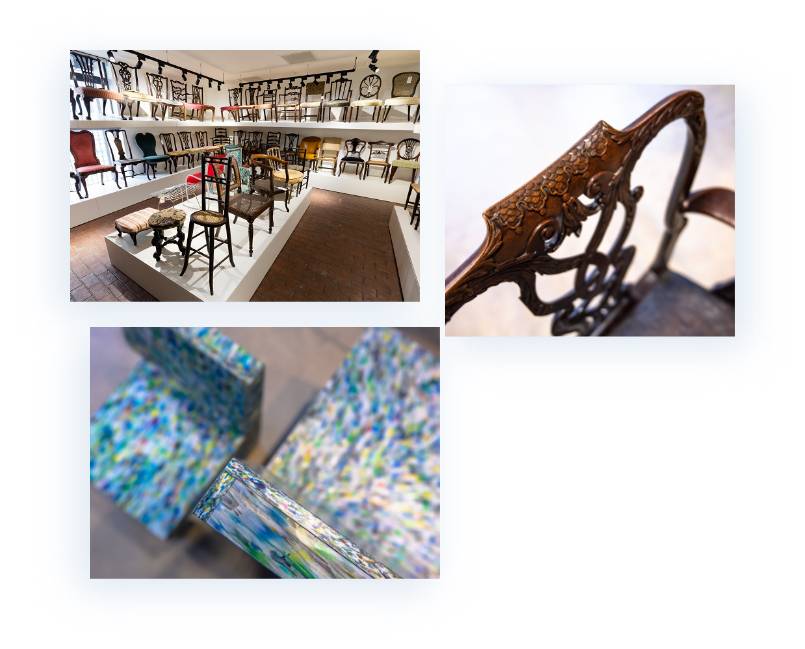 The Frederick Parker Chair Collection and Archive together form one of the most complete records of furniture making in Britain over a period of some 150 years.
About the collection and archive
Enquiries and Visits
The Frederick Parker Collection and Archive are based at the London Metropolitan University Special Collections building at: 25 Old Castle Street, London E1 7NT (entry for visitors is via the University entrance at Calcutta House, Old Castle Street)
Visiting the Frederick Parker Collection
We are able to offer a number of different tours and visits for groups wishing to view the Frederick Parker Collection – see costs sheet. In order to plan and organise a group visit we generally need a minimum of one months' notice – if you are interested in visiting, please contact us as early as possible.
Occasionally we are able to accommodate requests for individual visits to see the Collection, based on our staffing availability.
Enquiries about visiting the Collection should be made to –
Visiting the Frederick Parker Collection
Material in the Frederick Parker Collection Archive is available for study, research and general interest.
Visits and appointments to view Archive material can be made via the University's Special Collections Team – specialcollections@londonmet.ac.uk
The Reading Room, where visitors can view material is open:
Term time:
Tuesday – 10.00am to 5.00pm
Friday – 10.00am to 5.00pm
For opening hours outside of term time, please contact