Membership
Join as a freeman
If you work in any sector of the furnishing industry, you are welcome to join as a freeman.
Become a Freeman
The Furniture Makers' Company is made up of members who are connected in some way with the UK furnishing industry and bring a wealth of knowledge, experience and contacts they are keen to share.
Some of our members are still forging their careers, while others are building and running major companies. We are always keen to admit new members, men and women, as freemen of The Furniture Makers' Company.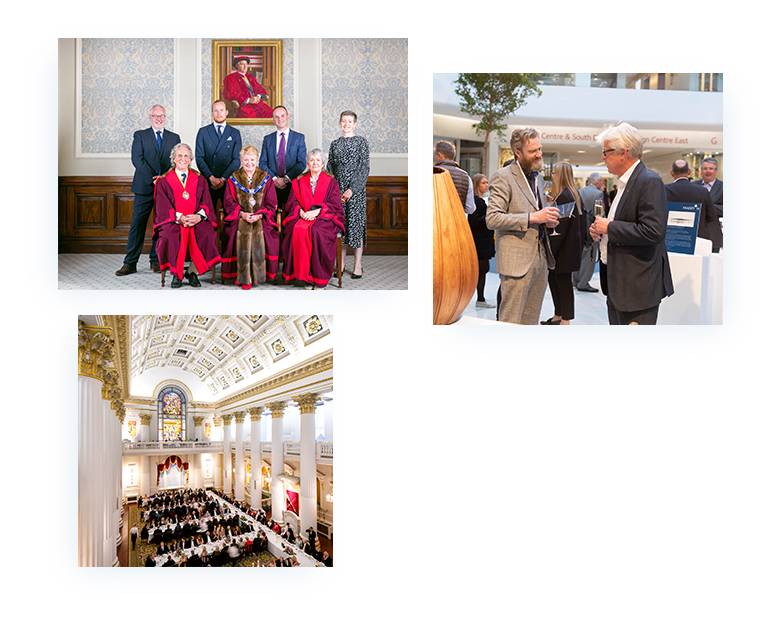 "I was hugely impressed with the Company's charitable work, particularly its work with young designers and craftspeople." Edward Woodley-Jones, liveryman
Who can join?
Any person can become a freeman – to take up the freedom of the company – but they must be proposed by a person who has been a liveryman for more than two years and who has known the applicant personally for at least four years.
Benefits of Membership
Fun and fellowship
The livery offers the opportunity to socialise with likeminded individuals on a regular basis and develop lifelong friendships. The Furniture Makers' Company plays an active part in the many events in the City livery calendar.
Networking within the furnishing industry
We organise a wide variety of formal and informal events during the year, providing members the opportunity to network with each other as well as get access to resources, knowledge, advice and support.
Prestige
City of London livery companies are long standing, respected institutions and membership brings kudos and regard, aiding you and your business's brand image.
It's good PR
Membership provides good PR opportunities for individuals to shout about.
Give something back
As the City of London livery company and charity for the furnishing industry, the Company offers members the opportunity to make a positive impact on the industry by giving back and supporting our charitable activities and various initiatives in the areas of education, excellence and welfare.
Furniture Makers' Hall hire discount
Our members get preferential rates for hiring Furniture Makers' Hall, with its choice of meeting rooms that can cater from eight to 120 people.
Next Steps:
Becoming a liveryman
On being admitted to the Company as a freeman, the natural progression is to become a liveryman – take up the livery. If you'd like to become a liveryman, you must satisfy five requirements:
The candidate must already be a freeman

He or she must be actively engaged in or with the furnishing industry in the United




Kingdom

He or she must have obtained the Freedom of the City of London

There must be a vacancy – the livery is limited to 300 by the Court of Aldermen

The candidate must be invited by The Furniture Makers' Company's court to join the livery
Get in Touch
For more information about joining as a Freeman, please contact us.