Membership
Join as a freeman
If you work in any sector of the furnishing industry, you are welcome to join as a freeman.
Become a Freeman
We are a modern livery company whose membership comprises of individuals and businesses that make up the diverse, vibrant and creative UK furnishing industry. Our members are the fuel that fire the engine and help us fulfill our vision.
Joining a livery company brings with it a wealth of opportunity to be part of a unique and historic British institution and give back to a sector which has given you a career. On joining, you will be warmly welcomed into a friendly and supportive community of furnishing industry colleagues and professionals.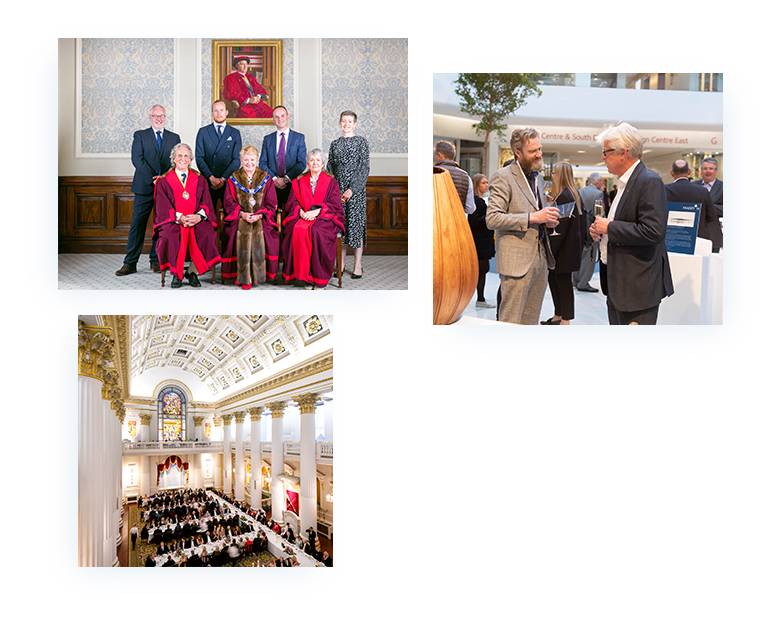 "I was hugely impressed with the Company's charitable work, particularly its work with young designers and craftspeople." Edward Woodley-Jones, liveryman
Who can join?
Unlike some other livery companies, all our members must be associated in some way to the furnishing industry. This helps us maintain industry relevance and facilitate meaningful business connections among our membership. You could be a designer, manufacturer, distributor, craftsperson, retailer, supplier, lecturer, PR practitioner or journalist – all are welcome. We encourage and welcome diversity – sectoral and cultural – within our membership and would be happy to hear from you, even if you have now retired. What our members tend to have in common is a passion for the furnishing industry, a philanthropic desire to 'give back' and a wish to meet and converse with like-minded individuals.
Benefits of Membership
Develop your network
We have a full calendar of social events, business orientated seminars and activities that provide members the opportunity to meet, get fresh perspectives, widen their knowledge and help them to develop professionally and personally.
Raise your profile
City of London livery companies are long standing, respected institutions and membership brings kudos and regard, elevating you and your business' brand image. Membership also provides superb PR opportunities for individuals to shout about.
Get access to exclusive events
We organise a wide variety of formal and informal events during the year, providing members the opportunity to meet, dine and share unforgettable experiences in some of the City of London's historic and magnificent venues, including the annual dinner at the Mansion House celebrating the installation of the new Master.
Fun and fellowship
The livery offers the opportunity to socialise on a regular basis and nurture lifelong friendships and invaluable business relationships.
Give something back
As the charity for the furnishing industry, we offer members the opportunity to make a positive impact on the industry by supporting our charitable activities. You can also collaborate with other members through rewarding committee work that support our many initiatives in the areas of education, excellence and welfare.
Furniture Makers' Hall hire discount
Tucked away between Liverpool St, Moorgate and Bank underground stations is the heart and home of the Furniture Makers: Furniture Makers' Hall. The stunning venue has three dedicated spaces with state-of-the-art audio-visual facilities that cater for business meetings to grand dinners. Members get preferential room hire and catering package rates.
Becoming a freeman:
Application process
We welcome applications from those in the industry who share our aims and values and are suitably qualified to join, either by their professional training and education, their skills and experience, or their association with the industry.
Most of our members are proposed by an existing member who is likely to be a business contact or colleague. If you need help with obtaining a proposer, we can help by putting you in touch with a senior member who will take you through the process. On expressing your desire to become a freeman, we will invite you to join us for an informal interview with other new candidates at Furniture Makers' Hall.
Get in Touch
If you are interested in joining The Furniture Makers' Company as a freeman or progressing in your membership journey, we invite you to get in touch with our membership manager to find out more.