News
Her Master's Voice: what does a One Step Champion look like
Well, it's a difficult one because I'm pleased to say that the One Step at a Time campaign has captured the heart and minds of companies from across the broader furnishing industry. At last count, 104 – yes, a fabulous one-hundred-and-four ­- companies had signed up as One Step Champions.
We have manufacturers and distributors working in the beds, upholstery, cabinet, KBB, fabrics, textiles, solid surfaces sectors as well as retailers, service providers, trade associations… The list goes on.
By agreeing to a simple set of communication 'tick box' asks, these companies have become part of a growing and powerful UK industry-wide movement to ensure workforces across the country know that The Furniture Makers' Company is there to help in times of need.
In a world where no one ever knows when a curve ball may strike and disrupt the equilibrium of life through stress, illness, job loss or, quite simply, an accident or whatever the challenge is, access to help and support is a phone call away.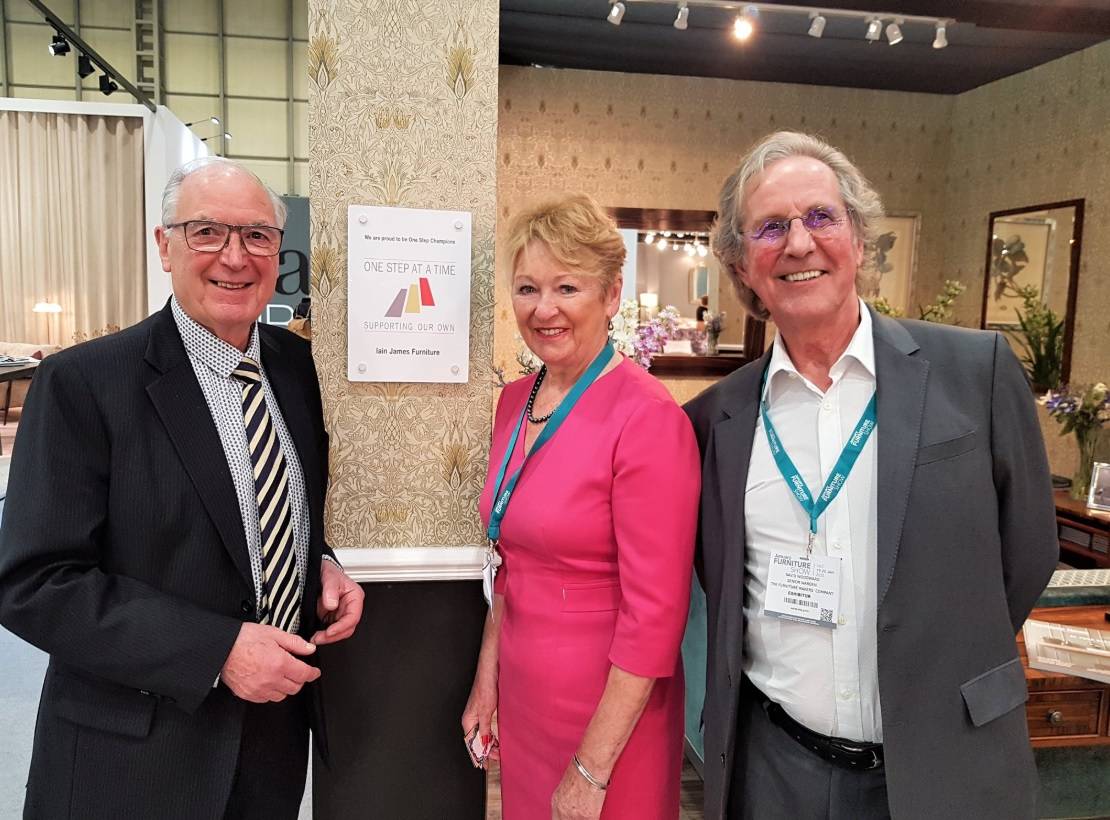 Have a peek at one very special One Step Champion
Take the inspirational Andrew Mitchell of Artistic Upholstery, for example. On signing up his own company, he wrote a personal letter to around 30 companies based in the Long Eaton area encouraging them to support the campaign. Through his personal advocacy and recommendation, many have signed up. Not content with this success, at the January Furniture Show, Andrew directed more companies to our stand where we signed up further champions. This is what a true champion looks like, someone who is passionate about our sector and who walks the walk. I'm sure he'll be doing the same at the forthcoming Long Point exhibition as well.
Who are the sort of folk we help?
Take John, for example, he had been working as a warp knitter for two different furnishing fabric manufacturers for over four years. Due to a downturn in productivity his work ceased early in 2019. He has tried to work via agencies but without success.
There was particular concern around his age being a factor in being unable to get paid work. He is approaching state retirement age now with just six months to go before he can access his state pension.
Due to his change in circumstance where he went onto Universal Credit, he fell behind on his rent and council tax. Living off just £73.10 per week was becoming increasingly difficult to get by and pay the £5 per week the local authority demanded to clear his rent and council tax arrears.
The debt advisor at the local money advice service helped him to locate our charity to request support. We quickly assessed his situation and awarded a one-off grant to clear the rent and council tax arrears. These were the most urgent issues to ensure he did not lose his home and did not have his, already, low benefits reduced to pay back the arrears.
John was very relieved and grateful for the assistance that was offered.
Just one small step of engagement can make a significant difference to the life of someone in our sector. Looking after our own when times are tough is what it's all about.
How can you become involved?
It couldn't be easier and it's fast and free.
Just sign up and commit to communicating our welfare support to your employees to ensure that the word gets out to your teams. You and your company can display a One Step Champion certificate with pride and become part of a growing community that cares.
A simple act of kindness when the going gets tough can mean the world and should never be underestimated. We want the entire industry to know that they have a friend in us.
After all, who knows when we all might need a little help one day?