News
The Master thanks Drapers Academy choir
The Master Dids Macdonald OBE and a party of Furniture Makers visited the Drapers Academy earlier this month to present the school's choir with a small cheque of thanks, following their voluntary performance at our Royal Charter Dinner last year, and meet with some of the administration.
A chance meeting between the Master and Sue Monk, vice principal at the school, resulted in members of the Drapers Academy's girls choir performing for more than a hundred of our members during an interlude at the Royal Charter Dinner, held on Thursday 7 November at Apothecaries' Hall.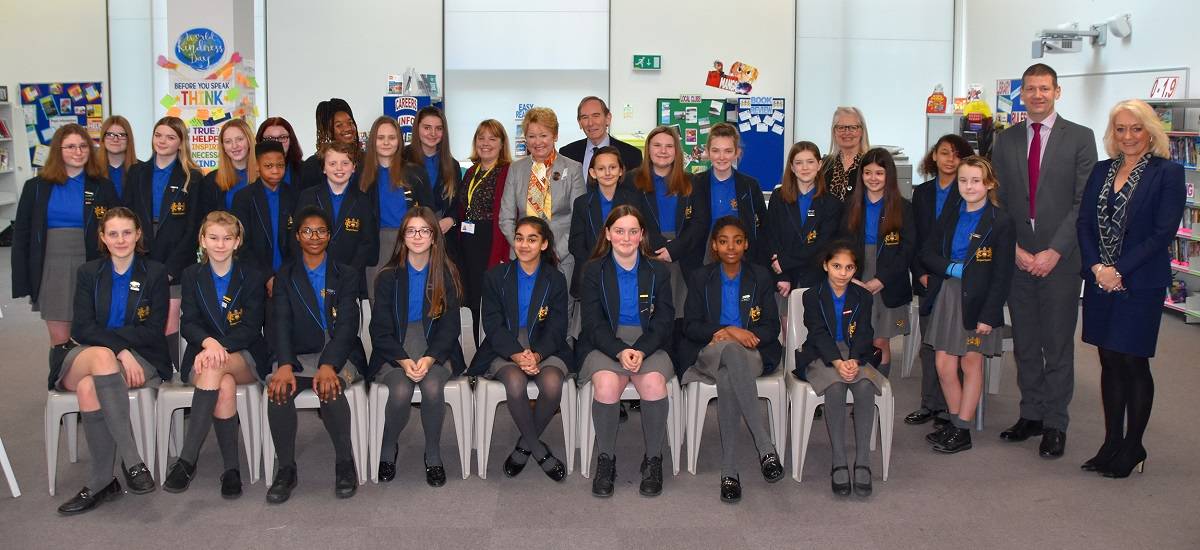 The diners were so impressed with the choir's performance on the night that the Master wanted to thank them for entertaining her guests and arranged a meeting on 7 February to present a small cheque.
The Master was accompanied to the Romford-based school, which is amixed institution catering for up to 1,200 students, by Past Master Dr Tony Smart MBE and court assistant Steph Marsh, both members of our Education and Training committee.
While there the group met with Sue, Darren Luckhurst, principal; and Gary Bangs, head of design technology and were given a tour by two prefects from the sixth form.
The Master said: "We were very impressed by the staff and students that we met, the modern open plan buildings and facilities in general. We were pleased to learn that as a result of the choir performing at our Royal Charter Dinner, they have been invited to perform with other schools at the Royal Festival Hall in March."
The school plans on using the financial gift to purchase some branded t-shirts for the choir to wear while performing.
Talks are now in progress to arrange a small group of chairs from the Frederick Parker Collection to be displayed at the school as part of the collection's touring programme, so the students can find out more about the history of British furniture making.