News
Manufacturing Guild Mark holder focus – Herman Miller
In the first of a new regular series of content, we find out more about the holders of the illustrious Manufacturing Guild Mark. First up is international office furniture manufacturer Herman Miller.
Give us a brief history of the company. How did it come to be?
Herman Miller was a West Michigan businessman who helped his son-in-law, D.J. De Pree, buy the Michigan Star Furniture Company in 1923. De Pree had been working at the company, which opened in 1905, since he was hired in 1909 as a clerk. De Pree knew his father-in-law was a man of integrity, so he decided to rename the company after him.
By the middle of the 20th century, the name Herman Miller had become synonymous with "modern" furniture. Working with legendary designers George Nelson and Charles and Ray Eames, the company produced pieces that would become classics of industrial design.
Today, Herman Miller is a recognised innovator in contemporary interior furnishings, solutions for healthcare environments and related technologies and services. A publicly held company headquartered in Zeeland, Michigan, we have manufacturing facilities in the United States, China, Italy and the United Kingdom and sales offices, dealers, licensees and customers in over 100 countries.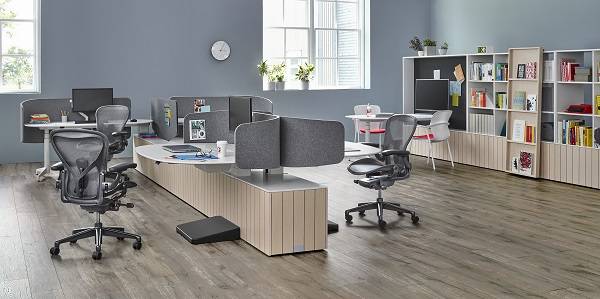 What best describes the style of furniture/furnishings that you manufacture?
Herman Miller's furniture is often described as Mid-Century Modern and in many of our classic pieces from the 1950 and 60s, which we still make today, you can see that influence. However, with items such as the iconic Aeron Chair, it was like nothing else on earth when it was launched in the 1990s (and remastered in 2016). Using innovative materials and cutting-edge technology it transformed people's idea of what an office chair should look like.
There has been lots of examples of manufacturers switching production during lockdown to support the NHS. Is this something you were able to do?
Using 3D printing technology from our R&D lab, we were able to 'print' headbands to make face visors in conjunction with the University of Bath, as well as laser cutting vinyl for visors for Wiltshire Air Ambulance.
What opportunities are there in a post COVID-19 'new normal' world for British Manufacturers to seize?
As the world looks at the effects of the pandemic, both positive and negative, it gives companies including manufacturers, the opportunity to look at the processes and products and think about their relevance in the new normal reality. For some companies, that reality might be very different to pre-Covid and what might have seemed important before may not longer be so, and vice versa.
What is the biggest trend influencing manufacturing in your field at the moment?
For us as an office furniture manufacturer it is working from home following by returning to the office. While working from home as always been part of the working life for many people, the huge increase in this has in turn turned to huge demand for work from home kit, such as office chairs. As people have been working from home for longer periods, the need for an office chair that properly supports their body has become clear. We've seen demand for chairs for home use soar, driven in part by large companies offering their employees money to purchase appropriate items. We have also been working with companies to manage their return to work, looking at how floorplates can be adapted to enable staff to return safely.