News
His Master's Voice: Help us reach more people
By Master David Woodward
In recent weeks we have seen a steady increase in the number of applications for our Personal Support Grants and expect the numbers to increase as the pandemic continues to disrupt our lives. 
Thankfully, the number of infections and deaths are declining but one is one too many. Lockdown is having a huge impact on our industry, but green shoots are appearing with news of more retailers and manufacturers safely trying to start up.
Collectively we need to be positive and strong, we can and will come out of this crisis and build better and stronger businesses.
In the meantime, we at The Furniture Maker's Company need to double our efforts to increase our help for those in need in our industry, like Matthew.
It was Matthew's friend who told him about The Furniture Makers' Company as his friend had been involved in fundraising for our charity some time ago.
Unsure how or what we could offer him, Matthew looked at our website and downloaded, completed, and emailed back an application form.
On the same day, the welfare officer was able to contact Matthew directly and confirm his work history in the trade.
In terms of seeking support from the government, Matthew unfortunately fell between the gaps.
He was no longer an employee so unable to be furloughed by an employer and had only been self-employed since January 2020, and unable to accept HMRC self-employment furlough, backed by government funds.
With his wife being furloughed and two sons under the age of seven, Matthew's anxiety on how he was going to support his family was growing by the day.
This is a situation we want no one to be in and, pleasingly, our welfare officer was able to give Matthew advice and immediately award a one-off £500 grant to help this young family.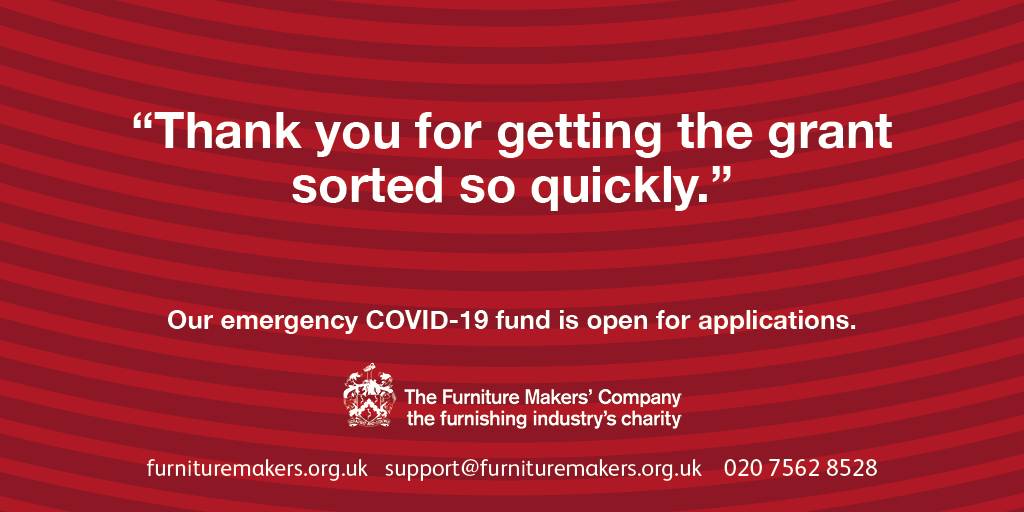 This is just one of the many examples of the difference our charity is making to real families around the UK.
There are many 'Matthews' out there, and we want to support as many of them as we can, but we need your help.
This is where signing up to our free One Step at a Time campaign comes in.
On registering and committing to spreading the word of our Personal Support Grants to your employees/co-workers, we will send you digital and physical collateral to share with them – it is that easy.
My plan is to increase the numbers from the current 105 businesses to 300 + this year and to 450 + the following year.