News
Paws for thought – Nelly and Jonny walk the Icknield Way for Step 2 It
Step 2 It launched at the start of May and straight off the bat there were some creative challenges being organised in support of the campaign.
A particular favourite that got all our tails wagging was Nelly, the two-year-old black Labrador of our CEO Jonny Westbrooke, putting her best paw forward for Step 2 It and walking 177km of the Icknield Way, dragging Jonny along for the journey.
Crossing six counties, the Icknield Way Trail is a 170-mile (274 km) route linking the Peddars Way National Trail in Suffolk with the Ridgeway National Trail in Buckinghamshire, which in turn links with the Wessex Ridgeway.
Nelly and Jonny set off on their six day walk on Sunday 2 May and we asked them to write a diary of their trip.
Day One – Ivinghoe Beacon to Luton, Bedfordshire
We set off from Ivinghoe Beacon in Buckinghamshire and for the first half day we were rewarded with some magnificent views across Buckinghamshire. We passed Whipsnade Zoo which caused Nelly to get quite excited. The second half of the day was rather dull, skirting around the edges of Dunstable and Luton and trying to navigate through a mass of new housing estates that did not appear on the map.
Day Two – Luton, Bedfordshire to Baldock, Hertfordshire
Day two saw a big leg across Bedfordshire and into Hertfordshire ending up in Baldock. We found a lady's purse and tried to hand it into the huge police station in Letchworth, but amazingly it was deserted – after some detective work of our own the purse and owner were reunited later that day.
Day Three – Baldock, Hertfordshire to Chrishall, Essex
Day three was from Baldock and through Royston, ending up in the Essex countryside village of Chrishall. The weather was mixed and very windy to start with, but Nelly seemed to enjoy it and we made excellent progress. By the time we reached Royston my legs were tiring, but the sun came out, so we pushed on to the end.
Day Four – Chrishall, Essex to Balsham, Cambridgeshire
Day four was spent crossing some beautiful rolling countryside, where we spotted a huge herd of Fallow Deer – they didn't seem at all bothered by us as we plodded past. Crossing the noisy M11 via a foot bridge reminded us that there were other humans around, but we were soon back into lovely countryside and treated ourselves to a late lunch in a pub garden in Linton before heading off further into Cambridgeshire ending up in Balsham.
Day Five – Balsham, Cambridgeshire to Icklingham, Suffolk
Day five was another long one and the most varied of all. We passed through several miles of Newmarket stud farms before breaking out into some lovely rolling and wooded Suffolk hills. Mid-afternoon we crossed the A14 and were immediately into the very sandy flat Breckland area, where we managed to complete a few more miles.
Day Six – Icklingham, Suffolk to Thetford, Norfolk.
It was flat and we passed through a huge forest block, meeting very few people but seeing lots of roe deer and too many grey squirrels. The last mile or two into Thetford were tough but we followed the pretty river Thet into the middle of town and flopped down at the train station pub for a well-earned pint (and bowl of water) before catching the train back to Cambridge.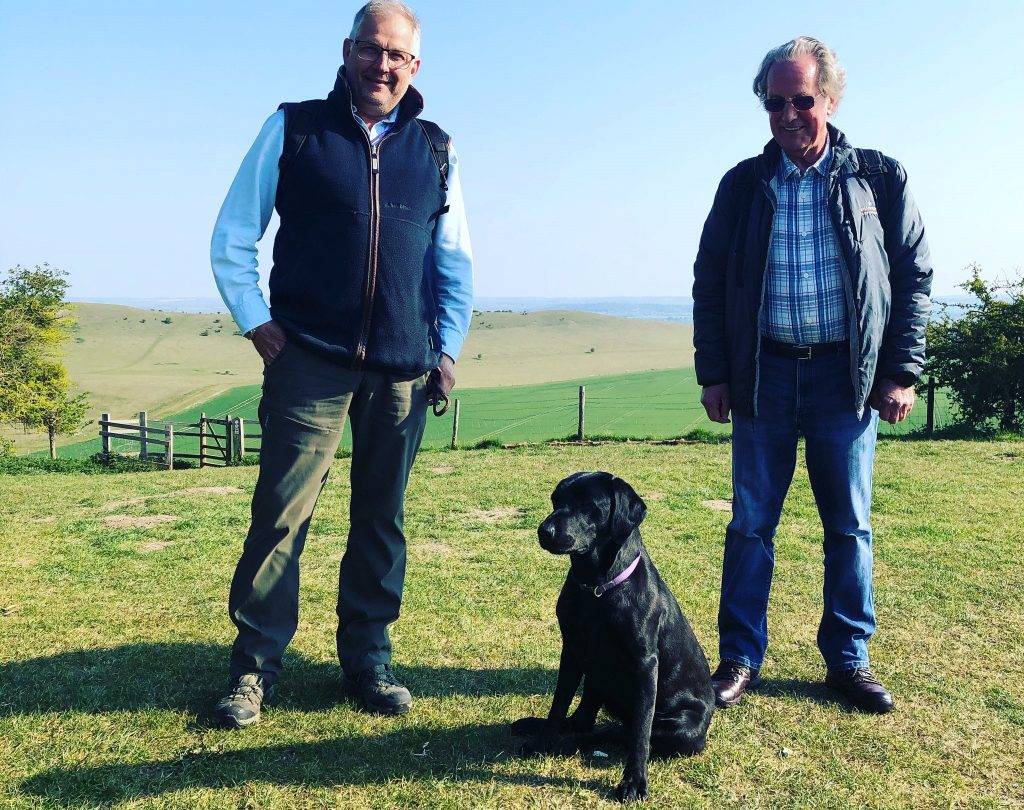 I could not have managed the walk without a huge amount of support from my wife, Sarah, who dropped us off and picked us up each day while keeping us fed with sandwiches and dog treats! I would also like to thank my human walking companions, David Woodward, Richard Sweetman and Simon Bell. Between them they kept me company for four days and ensured that my competitive spirit maintained a good pace throughout. Undoubtedly the star of the week was Nelly – she just loved exploring new places and smells and had so much energy that she even wanted to go for a walk each evening when we got home, something that was certainly not on my agenda. The bond between us is even stronger now and I suspect she will expect another similar challenge in the months ahead.
Finally, I would like to thank the generosity of all those sponsors who supported me and made the challenge so worthwhile – we have raised nearly £3,000 towards the Step 2 It challenge and have hopefully demonstrated what can be done by just one chubby middle-aged man and his dog. Hopefully, it will encourage a few more people to undertake their own challenge over the next 12 months and help us reach the ambitious £250,000 goal that has been set – I do hope so.
If you want to organise your own event – the more creative the better – complete a pledge form today.