News
Her Master's Voice: a huge step taken at JFS
2020 couldn't have got off to a better start for our One Step at a Time campaign as we have surpassed our target of 100 registered companies.
Earlier this month the Furniture Makers exhibited at the January Furniture Show for the first time in several years.
Going into the event, we already have 70+ companies signed up, but this was our chance to push the campaign out at the UK's leading domestic retail furniture trade show.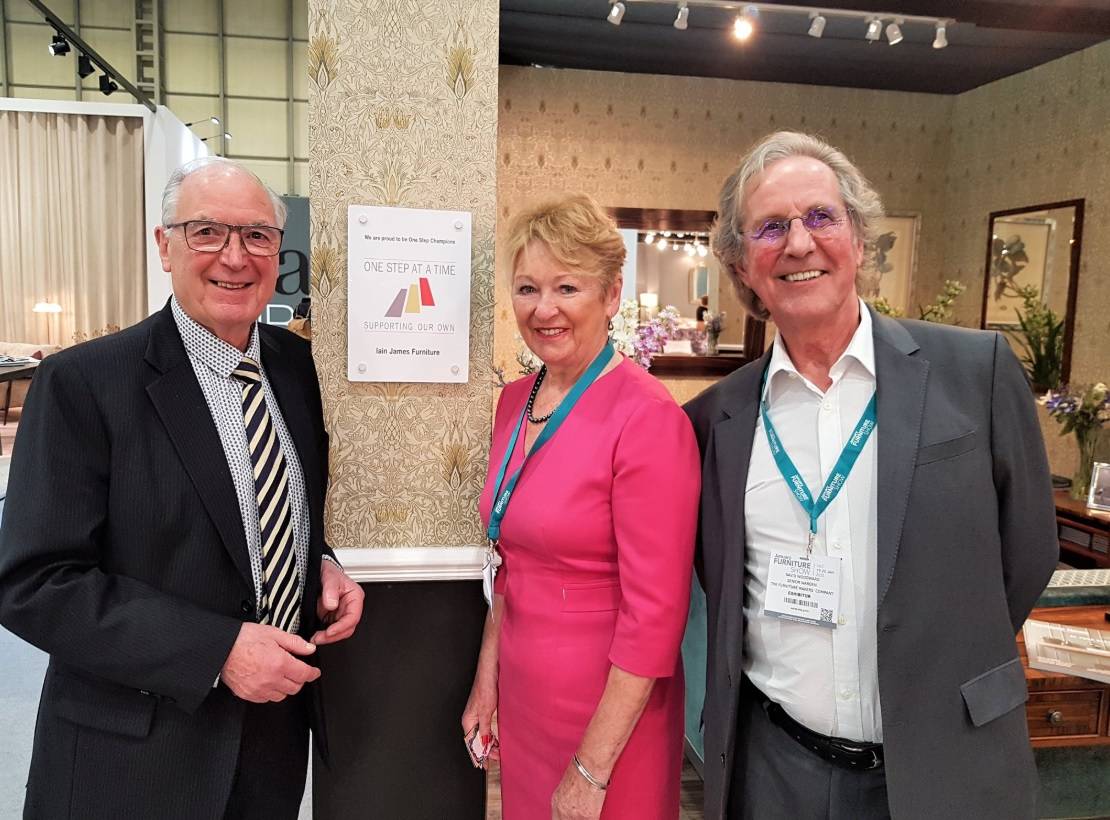 Showing their support for the Furniture Makers and campaign, January Furniture Show provided us with a great stand and Furniture News helped push the message to everyone who attended the event through an opinion piece in their January issue.
Pulling together as an industry is what makes this sector so friendly, caring and inclusive. It's fair to say that we wouldn't have hit our target early without senior warden David Woodward, court assistant Lizzie Shaw and some very willing volunteers, manning our standing and signing up around 30 companies.
Why is One Step at a Time so important?
Who knows when fate or circumstances will take a turn for the worse and impact on our lives and place us one day away from needing support? The more people out of the 338,000 who make up the collective workforce in our amazing industry get to know about our charity, the better. January Furniture Show could not have been a better place to reach out to our industry.
Who are the sort of folk we help?
Well, for many who have served our industry, traditional methods of engagement have disappeared, and digital exclusion can sometimes lead to loneliness and, therefore, illness. So, they may need our help. But, it's not all about retired people, quite the opposite. Nowadays we find that the people from our industry with the most pressing needs are those of working age, needing help to keep a roof over the heads of themselves and their families, when difficult times overtake them, such as accidents, ill health or a relationship breakdown.
Take Greg, a joiner, who said: "The grant came as wonderful news at a time when I was in dire straits, I can't thank you enough."
Or Luke, who works in the bed sector: "My wife became dangerously ill after the birth of our baby girl and had to remain in hospital so I had to take extended time off work to look after our new-born and couldn't earn. Thanks to a grant from the charity, I was able to make ends meet. I'm so grateful"
How can you become involved?
It couldn't be easier and it's fast and free!
Just sign up and commit to communicating what we do to ensure that word gets out to grass roots. You and your company can display a One Step Champion certificate with pride and become a growing part of our community that cares.
A simple act of kindness when the going gets tough can mean the world and should never be underestimated. We want the entire industry to know that they have a friend in us.
After all, who knows when we all might need a little help one day?